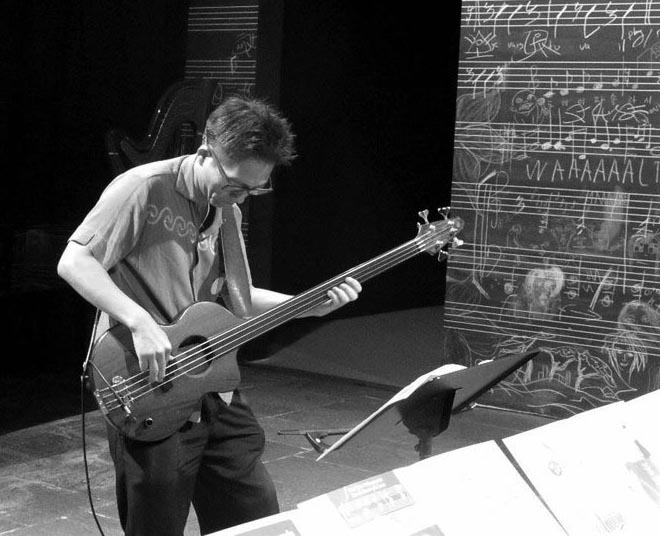 CV is downloadable HERE.
Short Bio:
Kato Hideki (Kato: family name; Hideki: given) is a musician, composer & producer, who lives in Brooklyn, NYC. His music is often based on narrative elements and topical issues, with a wide range of forms and sounds. His own projects are: Death Ambient with Ikue Mori & Fred Frith; Green Zone with Otomo Yoshihide & Uemura Masahiro; Tremolo of Joy with Charles Burnham, Briggan Krauss, Ed Tomney & Calvin Weston; OMNI wtih Nakamura Toshimaru & Akiyama Tetsuji; Plastic Spoon with Karen Mantler, Douglas Wieselman & Shahzad Ismaily; and the solo works Hope & Despair and Turbulent Zone. As a bassist, he has worked with Eyvind Kang, Karen Mantler, Zeena Parkins, Jim Pugliese, Marc Ribot and John Zorn among many others. Collaborators include Nicolas Collins, James Fei, John King, Christian Marclay & Ursula Scherrer. He co-produced Karen Mantler's Business is Bad for XTRAWATT / ECM Records, and music for the Bessie Award-winning THEM with Chris Cochrane.
Long Bio:
Kato Hideki (Kato:family name; Hideki: given) is a musician, composer & producer.
Kato was born on March 5, 1962 in Nagoya, Japan. He received a bachelor's degree in creative writing from Waseda University in 1984. As a seminal member of the Tokyo new-music scene of the early 1990ís, he worked with Otomo Yoshihide, Yoshida Tatsuya of Ruins, Yamatsuka Eye of Boredoms and Koichi Makigami. In 1991 he was co-recipient of a grant from the Australia Council for the project Peril with The Necks drummer Tony Buck, which toured and recorded in Japan and Australia. After participating in John Zorn's production of Koichi Makigamiís Toshiba/EMI CD in 1991, Kato permanently relocated to New York in 1992.
Kato's dynamic live performance has garnered considerable attention in the US, Canada and Europe. He appeared at the Steim 25th Anniversary in Holland, Taktlos Festival in Switzerland, Freiwild Festival in Germany, Victoriaville Festival in Canada and the Mimi Festival in France. With Death Ambient, he toured Europe, the UK and appeared on BBC Radio 3, recorded at the Royal Festival Hall in London. He performed with Michael Schumacher for the Interpretation music series at Merkin Hall in NYC. He also performed John King's Open Strings for the New York City Ballet at Lincoln Center.
Besides working with the other artists, his own body of work has received wide acclaim. He was selected as Artist-in-Residence at Harvestworks in 1993, and released the Bass Army CD Karada wa Oto o Dasu Mono in 1994. He co-founded the trio Death Ambient with Ikue Mori and Fred Frith. He has produced the trio and released three titles: Death Ambient (1995), Synaesthesia (1999) and Drunken Forest (2007) on Tzadik Records. His acoustic CD Hope and Despair, which features Zeena Parkins & John Zorn, was released by Extreme in 1996. Kato formed the trio Green Zone with Otomo Yoshihide and Uemura Masahiro in 2004; The self-titled CD was released on DoubtMusic in 2005. Green Zone toured Japan and recorded a 50-min piece, Bayt in 2006; the CD was released on Disc Callithump in 2008. He formed OMNI with Nakamura Toshimaru and Akiyama Tetuzi in 2006. Their self-titled CD was released on Presquile Records in 2009. In 2012, he was selected as Artist-In-Residence at Headlands Center for the Arts and composed an installation piece Hashigakari, in Sausalito, CA.
His composition is often based on narrative themes, mostly topical issues: the Death Ambient CD Drunken Forest was based on climate change and environmental collapse. He was commissioned by the Kitchen to compose for a 10-piece big band; the work, Mystic Ship of Life premiered at the Kitchen House Blend Series in 2001. In 2005, he began work on a suite, Tremolo of Joy, with Charles Burnham, Briggan Krauss, Ed Tomney and Calvin Weston, which was based on Native American myths. In 2009, he was commissioned by the Swiss Institute to compose music for Raphael Perretís Sirens of NYC. Kato also wrote music for theatre, TV and short films, including the Irondale Ensemble's production of August Strindberg's Ghost Sonata in 1995 and a La Mama production, After the Rain, directed by Watoku Ueno in 2008; film scores for Japanese director Sasaki Hideaki's films, In Heaven and Exit B9 in 1991; and Rashid Mamunís Platform in 2008. His most recent project is the band Plastic Spoon, with Karen Mantler, Douglas Wieselman & Shahzad Ismaily. For this project, he writes songs about economic issues, such as poverty, the decline of capitalism, the global aging crisis, the banking and food industries, the prison-industrial complex, etc.
Kato developed the Prime Number Tuning system, resulting in the solo bass piece Turbulent Zone (CD released on his own label, Music for Expanded Ears,1998). The piece was performed at the Bang on a Can Marathon in 1999 and toured the UK and Europe.The piece was critically-acclaimed and was noted in a book Avant Rock: Experimental Music from Beatles to Bjork by Bill Martin. Most recently, he is interested in combining linear and non-linear elements for his music and sound art, as a way of mixing the subjective and objective aspects of music and sound..
In addition to his own projects, Kato has been an active collaborator with the other sound and visual artists. With Nicolas Collins, he performed at the Sound in Motion Festival in Belgium for a multimedia project in 1999, appeared at the Mixology Festival 2003, and New Sound New York in 2004. With James Fei, he released the CD Sieves in 2003 and toured Japan in 2004. He is also a frequent performer in Michael Schumacher's Room Piece, appearing at Rensselaer Polytechnic Institute, Merkin Hall, and the Sounds Like Now Festival 2004. In April 2007, he collaborated with Briggan Krauss for a sound and visual installation piece ZURE ("gap" in Japanese) at Diapason Gallery. He has been a member of the analog synthesizer group, Analogos with Kabir Carter, James Fei, David Galbraith, Michael J Schumacher and Ed Tomney since 2005. With the visual artist Ursula Scherrer, he created an installation/public art piece Elevator 55 at the Dumbo Arts Festival 2008, a performance piece, Dream Within a Dream, at Experimental Intermedia in NYC in 2009, and an installation, Slash, at Diapason Gallery in 2010. He appeared at the Feeding Back, Listening In festival at Columbia University, performing with James Fei and Nakamura Toshimaru, along with Otomo Yoshihide and Alvin Lucier; he also appeared at the Whitney Museum of American Art for the Christian Marclay Festival; with Esther Venrooy at Diapason Gallery; in Yolande Harris' SWARM at the Issue Project Room; and Marina Rosenfeld's roygbiv&b at the Museum of Modern Art in 2011.
As a bassist, he has performed and/or recorded with Derek Bailey, Samm Bennett, Dougie Bowne, Tony Buck, Hiram Bullock, Sim Cain (Rollins Band), Nels Cline (Wilco), Chris Cochrane, Anthony Coleman, Chris Cutler, Huge Davies, J.D. Daugherty (Patti Smith Group), Yamatuska Eye (Boredoms), Anton Fier, Marco Franco, Keiji Haino,Yuka Honda (Cibo Matto), HIKASHU, Shelley Hirsch, Eyvind Kang, Umezu Kazutoki, John King, Gary Lucas, Koichi Makigami, Karen Mantler, Christian Marclay, Billy Martin, Raz Mesinai, Merce Cunningham Dance Company, Eric Mingus, Ikue Mori, New York City Ballet, Arturo O'Farrill, DJ Olive, Zeena Parkins, Mike Patton, Robert Poss, James Plotkin, Jim Pugliese, Nuno Rebelo, Marc Ribot, Marina Rosenfeld, Elliot Sharp, David Shea, Yumiko Tanaka, Tenko, Calvin Weston, Hideo Yamaki, Tatusya Yoshida (Ruins), Otomo Yoshihide, Nana Vasconcellos, Carlos Zingaro and John Zorn.
As an engineer, he has built his own analogue gear (designed by J.C. Morrison) with which he records, mixes and masters recordings at his studio in Brooklyn. As a producer, he has produced all of his own work, as well as the 2011 Bessie Award-winning THEM (a production for dance, poetry and music by Ishmael Houston-Jones, Dennis Copper & Chris Cochrane); music for the Bruce Springsteen documentary Working On a Dream (PostWorks/NFL); and Karen Mantler's Business is Bad for WATT / ECM Records.
Kato has taught workshops on sound at Bates College, the Experimenta Festival in Buenos Aires, IAMAS, Chukyo University, Nagoya Universiy of Art and Science; and the School of the Art Institute of Chicago. He is an adjunct professor at NYU Polytechnic of Engineering.
photo: Anita Culp